<! WIDTH="22%" >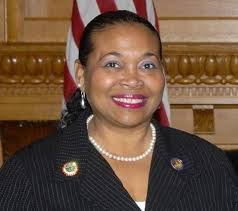 <! height="100%"> <! WIDTH="200" > <! -- WIDTH="100%" > <! -- HEIGHT="">
<! height="280" >
OLETHA FAUST GOUDEAU
YOUR State Senator
FOR THE
29th Kansas Senate District
When Your Future is at Stake
Choose the Leader Who CARES About Your Future <! --- WIDTH="550" ----- !>

<! ----- IMG SRC="New_banner.gif" WIDTH="550" ----- !> <! --WIDTH=1000 HEIGHT=199>
<! --------------------------------- SECOND ROW --------------------------------> <! ------------- FOURTH ROW ----------->
<! ------------- inside menu table -----------> <! ------------- End of inside menu table ----------->
To Join the Support for
Oletha
Call 652-9067
---
---
Piatt Plane Crash Memorial
---
Oletha played a leading role in developing the Piatt Plane Crash Memorial,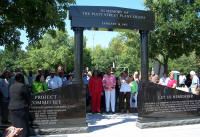 to finally bring recognition to the military and civilian victims of the Air Capital City's most devastating aviation disaster:
The January 16, 1965 crash of an Air Force KC-135 jet tanker, into an inner-city neighborhood in northeast Wichita, just south of 21st & Piatt.
For four decades, this landmark local tragedy, the worst non-natural disaster in Kansas history -- and its 30 innocent victims: men, women, children -- were largely forgotten.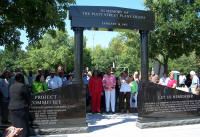 In the place where tragedy took them, so long ago -- today a towering permanent monument to their lives now stands -- a firm and lasting reminder that, in OUR community, ALL lives matter.
---
<! -------------- TEXT BOX inside big box ---------->

<! font color="#002244" >
---
PRODUCTIVITY
---
<!- ============= Start of FEATURE LIST ============== ->

<!- - - - - - - top text inner table - RIGHT column - - - - - ->


Successfully supported "Ban the Box" policy -- to help reintegrate former felons into the workforce, so they can earn an honest living... deterring a return to crime.

State Transportation Plan supported, to...

Keep roads & highways safe,
Support economic development with critical infrastructure, AND...
Create thousands of productive Kansas jobs.



Cessna factory funding supported to expand local job opportunities.

Persuaded state legislature to help fund Wichita-area water supply improvements to keep clean water affordable -- helping to secure Sedgwick County's future.

Helped restore
Historic Building Tax Credit
for attractive development & revived neighborhoods.
Drug Paraphernalia sales outlawed to deter drug abuse, reduce associated crime, and improve local workforce & employment.

Fatherhood Mentoring Initiative created to strengthen family life in modern times.

Grandparents Rights Act created to empower and support grandparents who shoulder parental responsibilities for their grandchildren -- providing safe and reassuring family connections, care, stability and security for Kansas children in need.

Promoted Financial Literacy for teens and young adults to prepare them for successful and responsible adult life.

---

<!- - - - - - -- - - - ->
<!- ============= End of FEATURE LIST ============== ->
---
... OLETHA FAUST-GOUDEAU
is your PRODUCTIVE choice
for a better future in Sedgwick County!

Oletha Faust-Goudeau
YOUR Kansas State Senator
P.O.Box 20335
Wichita KS 67208

(316) 652-9067




<! -------------- End of TEXT BOX inside big box ----------> <! ------------- BOTTOM menu table -----------> <! ------------- end of BOTTOM menu table ----------->
<! ------------- FIFTH ROW ----------->